"WABUN" – THE JAPANESE MORSE CODE (QOD6), MAI, JH1JDI – FISTS #15123
I like to QSO using QOD6, the Japanese Morse codes, so-called "Wabun CW". "Wabun" means "Japanese language" in Japanese generally and "CW communications in QOD6" especially among Japanese HAMs. The reason why I like Wabun CW QSO is that we can communicate with in Japanese language even in CW mode. According to "Directory of Wabun CW Stations", published in August, 2013, by an amateur society of Wabun CW fans, there are around 3900 amateur radio stations operating Wabun CW in Japan. If remember Wabun morse code (QOD6) it is easier for Japanese CW men to send what they want to say and to hear what the other stations want to say because Wabun communications are done in their mother tongue.
In Japan, it seems that there are mainly three types of CW QSOs. The first type is "599 BK" style, the second one is chatting using QOD1 (in English) and the third one is chatting using QOD6. The Wabun CW QSOs are popular in 80mb and 40mb, plus 144MHz band, because of the characteristics of the propagation. Both 80 mb and 40mb are so suitable to contact with stations all over Japan, from Okinawa (JR6) to Hokkaido (JA8), and 144MHz band is for radius of within 150km. Many Japanese CW stations using Wabun are on the air especially between 3515k Hz and 3525 kHz, 7015 kHz and 7025 kHz and around 144.070 MHz.
A marker of Wabun is DO and SN. DO means "from here QOD6 starts" and SN means "QOD6 has ended". The way to call CQ for Wabun CW is "CQ CQ CQ DO DE (callsign)".
Example
JH1JDI: CQ CQ CQ DO DE JH1JDI JH1JDI K
JA1QRZ: JH1JDI DE JA1QRZ K
JH1JDI: JA1QRZ DE JH1JDI DO (sending Wabun) SN JA1QRZ DE JH1JDI K
JA1QRZ: JH1JDI DE JA1QRZ DO (sending Wabun) SN JH1JDI DE JA1QRZ K
Now the Wabun CW QSO is not so popular even in Japan because it is necessary to remember QOD6 newly. This makes Japanese HAMs to spend more time to remember more than 50 codes and they don't have any connections with QOD1 English codes. That is, "A" of Wabun is "–.–" and "KA" is ".-..", "SA" is "-.-.-", they are not simple combination of codes of A, K, S and so on. These complexity and illogic come from characteristics of Japanese writing system but it is more efficient for CW communications done in Japanese language.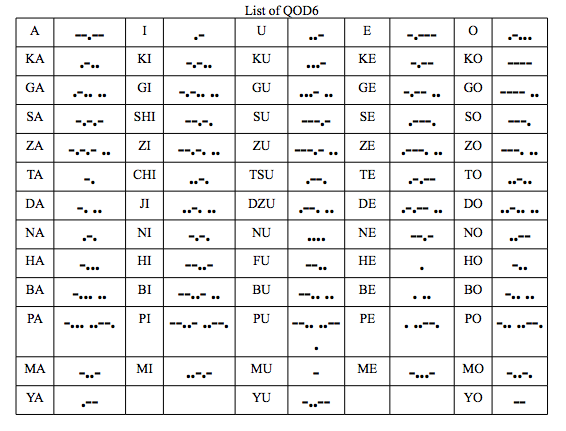 In Wabun CW, between DO and SN, they use comparatively formal literary style of Japanese language and there are almost no abbreviations in QOD6 for amateur stations, although there were for professional stations.
Example
QOD1: BT GA UR 579 57N QTH HR TOKYO WX FINE ES TEMP 25C MI NAME MAI HW? AR
QOD6: (in Japanese) DO Good afternoon and thank you for your calling me. Your signal comes with 579 57N to Tokyo. Now regarding weather here, it is fine and temperature is 25 degrees. My name is MAI. SN
Most of stations chatting in Wabun are relaxing and having good time, without any dog piles or getting results in recording number of log entries of stations contacting with them.
Because of the direction of interest of general Wabun QSO, they usually take at least 10 minutes for one QSO. I also chat for about an hour with a station. So some stations don't like Wabun QSO even if they can use Wabun codes. They say that they don't like Wabun very much because it takes much more time for one QSO comparing with "599 BK style" short-short CW QSO.
And the other sometimes says that Wabun QSO should not be on the air since it is domestic codes, not international ones and it is a kind of "cryptogram" for non-JA stations and even for JA stations, if they can not use Wabun.
There are many opinions both for and against about QOD6 Wabun QSO in Japan, but I think Wabun is to be estimated correctly and not to be forgotten. Because QOD6 is one of precious properties especially for Japanese CW men. During 2014, I am writing a monthly article about Wabun
CW QSO course on monthly magazine "CQ Ham Radio" published in Japan. The target is from introduction, through the learning and training, to enjoying Wabun CW QSO for whom being interested in it but not having started it.
From ASIA FISTS Newsletter written by Mai, JH1JDI