New Zealand DX Hall of Fame – 2011
The New Zealand DX Hall of Fame was established in 2009 to honour those outstanding ZL DXers and contesters who have excelled in our radio sport hobby over many years. The current panel of judges includes Ken McCormack ZL1AIH, Duncan McMahon ZL3JT and Bill Carney ZL3NB.
Previous winners have included, Roy ZL4BO, Ron ZL1AMO and Jock ZL2GX (SK) in 2009. Winners in 2010 included Dave ZL1AMN, Aola ZL1ALE and Dave ZL1HY (SK)
This year, after much deliberation the judges were unanimous in their selection and have elected the next three ZL radio amateurs to the New Zealand DX Hall of Fame for 2011. Their individual citations are below.
________________________________________________________
John N. Shaw ZL1BYZ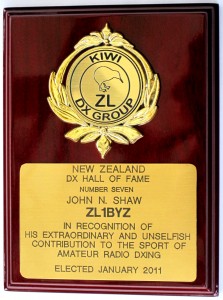 The election of John Shaw, ZL1BYZ as the 7th inductee to the NZ DX Hall of Fame recognizes his extraordinary abilities as a contester and DXer. Licensed in 1983, John has proven to be a prolific contest operator and amazing DXer with most of his operations on CW. He usually places highly in major international contests and generates enormous pileups when he operates from his Pukekohe farm. John was a member of the ZL6QH contest group, ZL7T DXpedition, ZL6LH Light House team and a long time active member of the Papakura Radio Club.
He has won the Doug Gorman Frequency measuring contest and numerous Jock White Field Day contests. He was recently made a member of the ARRL A-1 Operators Club. John is an  ARRL DXCC Club member with 325 entities, 5BDXCC and DXCC Challenge 2000 He contributes much to the sport of Amateur Radio Contesting and DXing in New Zealand and is a member of the ZM4T East Coast Contesters.
We wish John well in the future and hope that he will enjoy having the NZ DX HoF
award plaque on his shack wall.
_______________________________________________________
Bryan Anderson ZL2AFT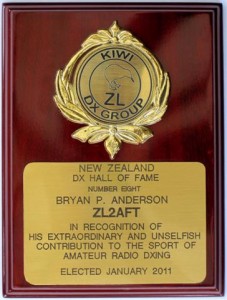 The election of Bryan Anderson ZL2AFT as the 8th inductee to the NZ DX Hall of Fame recognizes his superb DXing skills and outstanding contribution to the sport of radio DXing.
Licensed in 1954, Bryan has a long history of working DX with his own homebuilt equipment and had over 200 countries confirmed by by 1975. In 2009 he achieved DXCC #1 Honor Roll with 354 confirmed, mostly with antique Drake equipment and a homebuilt Quad. Bryan has given outstanding service to his local radio club and assisted many ZLs to achieve DX in the pile-ups. He has always tried to keep the hobby in perspective and not let it interfere with the more important things in life, such as his family and his work as a Polytech lecturer in Palmerston North.
We wish Bryan well in the future and hope that he will enjoy having the award plaque on his wall.
________________________________________________________
Peter W. Watson ZL3GQ (SK)
To the Family of Peter Watson
It gives me great pleasure to inform you that Peter Watson, ZL3GQ has been elected to the New Zealand DX Hall of Fame.
The posthumous election of Peter as the 9th inductee to the NZ DX Hall of Fame recognizes Peter's extraordinary and unselfish contribution to the sport of Amateur Radio DXing in New Zealand. From his 5.5 acre on the outskirts of Christchurch he achieved 323 entities by 1997, DXCC HR in CW, DXCC HR in Phone, 5BDXCC with 160m Endorsement, 5BWAZ Award #29, 160WAZ Award #26.
His passion was 160M and CW. He routinely set CQWW contest records and recorded the first ZL to VS6 top band contact. As an FOC member he was awarded the prestigious Al Slater award by the FOC committee for outstanding services to amateur radio. He was also a member of the ARRL A-1 Operators Club and a team member of the May 1996 ZL8RI DXpedition to Raoul Island in the Kermadecs. He was an outstanding ZL radio amateur for decades. His last contest was in February 1998 and he became a SK on March 27 of that year.
This award honours Peter's wonderful DXing and Contesting skills and will attest to how accomplished this great New Zealand DXer was.
73, Lee Jennings ZL2AL
New Zealand DX Hall of Fame Panel Convener
________________________________________________________
We offer our heartiest congratulations to these three outstanding ZL radio amateurs who have been elected to the New Zealand DX Hall of Fame in 2011.
Thanks to Ken, Duncan and Bill for their work in selecting the inductees. New Zealand has a rich history of producing world renowned DXers and Contesters. We are delighted that these ZL DXers have been recognized. They are among the best of New Zealand amateur DXers.
73, Lee Jennings ZL2AL