Empire of the Air DVD – A film by Ken Burns
Narrated by Jason Robards. Running time 120 minutes – Colour/B&W
A PBS Video ISBN: 0-7806-4057-8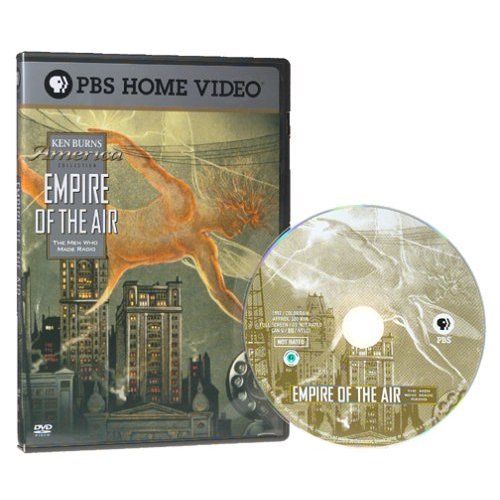 Reviewed by Lee Jennings ZL2AL
For 50 years radio dominated the airwaves and the American consciousness as the first "mass medium" This film by Ken Burns examines the lives of three extraordinary men who shared the primary responsibility for the invention of radio and it's early success, and whose genius, friendship, rivalry and enmity interacted in tragic ways. It is the story of Lee de Forest, a clergyman's son who invented the "audion" tube; Edwin Howard Armstrong, a brilliant withdrawn inventor who invented, regeneration, oscillation, the the superhetrodyne receiver and finally the FM:technology we know today and David Sarnoff, a hard driving Russian immigrant who created the most powerful communications company on earth.
The video portrays these three almost dysfunctional pioneers who plotted, schemed and invented the technology which changed the communications of the world. It also tells the story of giant egos, jealousy and epic courtroom battles that consumed them to the point of multiple marriages and divorces, bankruptcy and suicide. There were of course many other inventors of radio around the world. Although this is a story from an American perspective it doesn't diminish the drama and intrigue of the era. If you thought that Stephen Job of Apple and Bill Gates of Microsoft had a dustup you can appreciate the acrimony of these pioneers as they waged legal war with each other over their inventions and patents. While they spent time in the courtroom, David Sarnoff bought the licences for their inventions to make a fortune and become the most powerful media man in the USA owning both RCA and the NBC Broadcasting network. Incidentally, David Sarnoff was also an amateur radio operator.
The wonderful black and white still photography and colour clips of the early television era paint a vivid picture of the age. Interviews with prominent family members and early broadcasters fill in the backgrounds of these men. I was amazed to learn that Lee de Forest's dream of broadcasting speech and music to the masses was pinched by the Canadian Regenold Fessenden who beat him to it by one year. Fessendon had General Electric build him a steam-powered alternator with enough poles to produce a carrier of about 80 KHZ. His modulator was the carbon microphone element from a telephone in series with the field coil. It is thought that when his steam turbine was running at maximum, his generator may have produced as much as 100 KHZ (UHF). On Christmas Eve of 1906,
Fessendon tried out the setup on an island just off the coast of Virginia. He and a friend spoke Christmas greetings to anybody who was listening, played a violin, and frequently gave out an address to which people could write if they heard the broadcast. It probably sounded terrible, but they got cards and letters from people all up and down the East Coast. It is said that people used to listening to the static crashes and buzzing CW signals from spark transmitters thought they were losing their senses when voices and music began to be heard. There were a few steam-powered RF alternators built in the world, but vacuum tubes were discovered around 1907 or so and electronics as we know it was born.
One two minute film clip showed about 12 well dressed gentlemen with bow ties in front a microphone creating the live sound effects for a "western" drama. Absolutely hilarious! Amateur radio is not mentioned in detail but the magnificent towers and radio antennas that were constructed back in those days are a wonder to behold. Marconi's place in radio history is preserved and the sound and power of a fully operational rotary spark transmitter is awesome! Cutting edge technology between about 1885 and 1920 was to put a tuning coil on the output of the spark gap and to put the gap in to a chamber filled with hydrogen or some other substance and devoid of air so that a hotter spark could be made. Sometimes, the operator got a little too much air in the chamber by accident and the hydrogen would ignite, blowing the whole thing sky high, but that was just an occupational hazard of keeping in touch by wireless in those days.
I watched spellbound for two hours as the drama unfolded. The DVD from Amazon www.amazon.com at $18.00 USD over the internet and the shipping time is about 6 days from the USA. It was originally produced for the PBS (Public Broadcasting System) in the USA for running as a two hour documentary over a few weeks. It is well worth purchasing and would make an excellent video for club use.