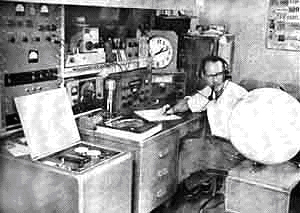 If you don't have a QSL from the U.S. Virgin Islands, it's not Dick's fault. He was providing QSOs from there for 55 years (1927-1982). Dick was born in West Newton, MA, in 1905, and lived here until 1924 when he joined the U.S. Navy. In 1925 he transferred to Navy Radio Station NBB in St. Thomas, U. S. Virgin Islands. Dick developed an interest in amateur radio, and in 1927 he became licensed as K4AAN. At that time, the K4 prefix was used for stations in Puerto Rico and the U.S. Virgin Islands.
Dick caught the DX contest bug in 1932, when he took part in the week-long ARRL DX CW Contest, placing third. The experience gained by frequent participations in subsequent contests enabled KV4AA to make the world's top score in the ARRL DX CW Contest of 1951, 1954 and 1956. In addition to contesting, Dick became a serious DX operator after receiving his KV4AA call sign in 1947, and in 1962 he held the top spot on the DXCC Honor Roll. After reaching that pinnacle, he continued to work DX, but did not submit any further QSLs to maintain a ranking.
He served as Dx Editor of CQ from 1952 to 1958 and fashioned the popular WPX awards during the later part of his stint with the magazine. Dick also played an important role in creating the YASME Dxpedition of the intrepid Danny Weil – VP2VB/MM, who activated 32 rare DX spots while attempting to sail around the world single-handed.
KV4AA was inducted into the CQ DX Hall of Fame in March, 1969. Dick became a Silent Key in 1982.