I am hooked on Begali Keys after having one made a few years ago. I also have a Vibroplex Vibrokeyer and a Bencher. They are great to use but the Begali is so much smoother and more controllable for long periods of ragchewing and contest work.
The Begali uses magnets rather than springs for the action has distinct advantages, especially if you prefer a light touch with close spacing. Since the moving magnets are imbedded in micro-threaded tubes they can be adjusted with utmost precision and maintain their setting over a wide range of temperature variation.  The magnets on the arms are mounted close to the pivot which keeps the effective moving mass low and allows a responsiveness at high speeds that is unique for magnetic paddles.  For that same reason the arms are made of a black anodized aircraft alloy that is very light but rigid.
Each of these paddles is personally inspected by Piero to make sure that it meets our exacting standards, and it comes with a signed certificate of authenticity that also records the manufacturing date.  (each paddle has a serial number engraved in the base)
Once you have experienced this paddle in operation we are sure that you will join the ranks of our many enthusiastic customers – find out what they had to say on eHam …
The Signature Edition embodies the experience that we have gained with the Magnetic Classic and the Magnetic Professional paddles, and it incorporates improvements that were suggested by our customers.  It was designed to be one of the finest paddles that can be produced with today's techniques and materials, surpassed only in some aspects by our Sculpture key and the Graciella Vertical key.

We start with the same heavy base that we are using in our other paddles, and you can order it with gold plating or  palladium plating.  The precision bearings are specially selected and matched, and they exceed the standards that are usually applied for laboratory instruments.  They are concealed in the base and in the central bearing block for a clean visual design. The friction springs for the gap adjustments are  hidden inside the contact posts. The cable connection is made through a 1/8" stereo jack in the base – so no unsightly cables are dangling around when it is not connected to your keyer.

The finger pieces are made of an anodized aluminum alloy, and we provide two sets: one has the longer geometry that our plastic paddles for the other Magnetic paddles have, shown here, and a second set that is slightly shorter. Some of our pilot users preferred the more direct translation ratio offered by shorter finger pieces – but since there was no clear cut choice we include both shapes and leave it up to you to determine your preference. 
Have a look at the Begali Web site. I has plenty of information about the company and about the products for the ham radio operator.
Officina Meccanica Begali has been manufacturing electro-mechanical precision components since 1960, and our line of fine keys and paddles for the ham community are a more recent addition.  They are a result of Piero's desire to create the finest keys and paddles for his own use. Piero obtained his ham radio license as I2RTF in 1964.  Ever since he has been a dedicated CW operator, and it was only natural that one day he would try to design and produce the best Morse keys that money can buy …
At this site, you will discover all about our keys and paddles, and you are able to order them online.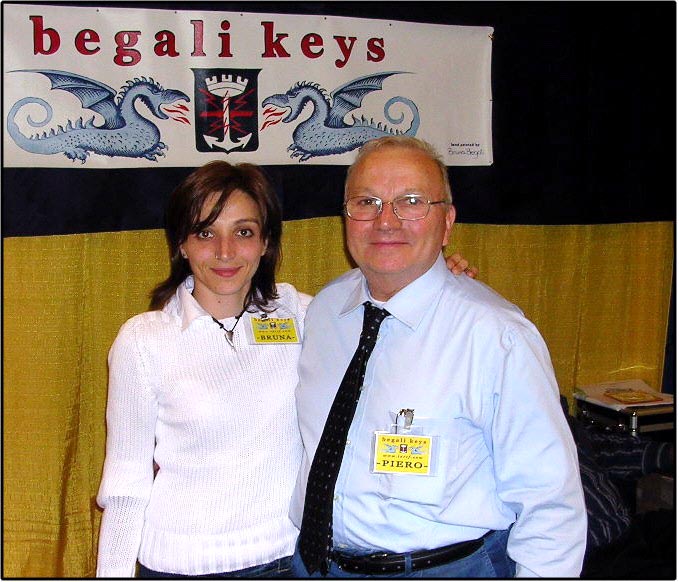 Feel free to browse around this site. If you have comments or questions about our products, or simply need more information and want to contact us, click on the contact button on any page within this site.
The Magnetic Professional is a variation of our Magnetic Classic paddle, and it has many of the same technical characteristics that have made the Magnetic Classic one of the best magnetic paddles that money can buy. The main difference is the surface finish: instead of the gold or palladium plating this paddle has a non-reflecting metal oxide coating. The bearing block is wider than on the Magnetic Classic, and it has set screws that let you adjust the paddle spacing within a narrow range (we're using the same adjustment technique in our classical flagship paddle, the Signature) The base is a flat black, and the central bearing block has a khaki color – the color and material combination gives this paddle a rugged military flair.

 

 

 Using magnets rather than springs for the action has distinct advantages, especially if you prefer a light touch with close spacing. Since the moving magnets are imbedded in micro-threaded tubes they can be adjusted with utmost precision and maintain their setting over a wide range of temperature variation.  The magnets on the arms are mounted close to the pivot which keeps the effective moving mass low and allows a responsiveness at high speeds that is unique for magnetic paddles.  Like the Magnetic Classic This key is certainly among the best that money can buy! Find out how users rated this paddle on eHam.

73, Lee ZL2AL